Listen to the program in the Austin Texas area on 89.1 fm – If you live outside the Austin Texas broadcast area you can listen live every sat. night to our live stream –  Click on this live stream every Sat. night  7-9pm, CDT
In addition listen to us on www.tunein.com – search Texas Liberty Radio
Go here to The Secret Truth old site – this will always be available even as we update our site to this new format
or – Stay here for future updates – we will be building a new site and will from now onward be posting here all new programs

---
"TURKEY INTRIGUE" – an article that will explain the recent events in Turkey – Doc file
---
"Osama bin Laden's son vows revenge against US for killing his father in audio message posted online -In a 21-minute speech released by Al-Qaeda, Hamza bin Laden promises to continue the global militant group's fight against the United States" – A PROBLEM WITH THIS REPORT IS THE SOURCE – SITE Intelligence Group, an organisation that tracks white supremacist and Jihadi Organisations online - In the most recent pronouncement by Hamza he threatens the Saudi Kingdom – HERE'S WHAT JAMES TRACY WRITES ABOUT THAT GROUP
---
PROGRAMS – Jan 1, – June 30, 2017
JAN. 14, 2017 – FIRST HOUR
George and Charlotte preview and discuss the annual WEF World Economic Forum meeting in Davos, Switzerland in addition to pointing out relevant info needed to understand the essence of this mind warp meeting where all minds are influenced and some describe would be akin to brain washing by degree. WEF – World Economic Forum Site
Samuel Huntington – at Davos 2004 Clash of Civilization
Samuel Huntington and The Clash of Civilizations
JAN. 14, 2017 –REBROADCAST –  SECOND HOUR
George and Charlotte welcome Robert Paxton author of "The Anatomy of Fascism"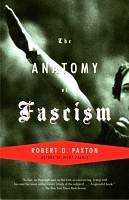 From the author of Vichy France, a fascinating, authoritative history of fascism in all its manifestations, and how and why it took hold in certain countries and not in others. excerpts follow from the book
P. 41…. fascism is more plausibly linked to a set of "mobilizing passions" that shape fascist action than to a consistent and fully articulated philosophy. At bottom is a passionate nationalism. Allied to it is a conspiratorial and Manichean view of history as a battle between the good and evil camps, between the pure and the corrupt, in which one's own community or nation has been the victim. In this Darwinian narrative, the chosen people have been weakened by political parties, social classes, inassimilable minorities, spoiled rentiers, and rationalist thinkers who lack the necessary sense of community. These "mobilizing passions," mostly taken for granted and not always overtly argued as intellectual propositions, form the emotional lava that set fascism's foundations
P. 201…The language and symbols of an authentic American fascism would, of course, have little to do with the original European models. They would have to be as familiar and reassuring to loyal Americans as the language and symbols of the original fascisms were familiar and reassuring to many Italians and Germans, as Orwell suggested. Hitler and Mussolini, after all, had not tried to seem exotic to their fellow citizens. No swastikas in an American fascism, but Stars and Stripes (or Stars and Bars) and Christian crosses. No fascist salute, but mass recitations of the pledge of allegiance. These symbols contain no whiff of fascism in themselves, of course, but an American fascism would transform them into obligatory litmus tests for detecting the internal enemy.
P. 201…Around such reassuring language and symbols and in the event of some redoubtable setback to national prestige, Americans might support an enterprise of forcible national regeneration, unification, and purification. Its targets would be the First Amendment, separation of Church and State (creches on the lawns, prayers in schools), efforts to place controls on gun ownership, desecrations of the flag, unassimilated minorities, artistic license, dissident and unusual behavior of all sorts that could be labeled antinational or decadent
P. 220……Giving up free institutions," especially the freedoms of unpopular groups, is recurrently attractive to citizens of Western democracies, including some Americans. We know from tracing its path that fascism does not require a spectacular "march" on some capital to take root; seemingly anodyne decisions to tolerate lawless treatment of national "enemies" is enough
Important Note: Ayn Rand chose Leonard Peikoff to be her successor as the spokesman for Objectivism he later penned a book entitled:
"The Ominous Parallels: The End of Freedom in America" – And in this brilliantly reasoned, thought-provoking book we learn why, as he demonstrates how far America has been detoured from its original path and led down the same road that Germany followed to Nazism. Self-sacrifice, Oriental mysticism, racial "truth," the public good, doing one's duty–these are among the seductive catch-phrases that Leonard Peikoff dissects, examining the kind of philosophy they symbolize, the type of thinking that lured Germany to its doom and that he says is now prevalent in the United States. Here is a frightening look at where America may be heading, a clarion call for all who are concerned about preserving our right to individual freedom.

Here below Leonard Peikoff lists parallels:
Each of the philosophic principles essential to the rise of Nazism in Germany has a counterpart in present-day America.

Is the freest country on earth moving toward totalitarian dictatorship? What were the factors that enabled the Nazis to seize power in pre-war Germany? Do those same conditions exist in America today?
These are the questions raised — and answered, with frightening clarity — by Leonard Peikoff, Ayn Rand's intellectual heir, in his powerful book The Ominous Parallels.
"We are drifting to the future, not moving purposefully," Peikoff warns. "But we are drifting as Germany moved, in the same direction, for the same kind of reason."
Some of the "ominous parallels" between pre-Hitler Germany and the United States that Peikoff identifies are:
Liberals who demand public control over the use and disposal of private property — social security, more taxes, more government control over the energy industry, medicine, broadcasting, etc.
Conservatives who demand government control over our intellectual and moral life — prayer in the schools, literary censorship, government intervention in the teaching of biology, the anti-abortion movement, etc.
Political parties devoid of principles or direction and moved at random by pressure groups, each demanding still more controls.
A "progressive," anti-intellectual educational system that, from kindergarten to graduate school, creates students who can't read or write — students brainwashed into the feeling that their minds are helpless and they must adapt to "society," that there is no absolute truth and that morality is whatever society says it is.
A student radical movement (from the 1960's through the violent anti-nukers and ecology fanatics of today) who are, Peikoff maintains, the "pre-Hitler youth movement resurrected." The radicals are nature worshippers who attack the middle class, science, technology, and business.
The rise of defiant old-world racial hatreds disguised as "ethnic-identity" movements and "affirmative action."
A pervasive atmosphere of decadence, moral bankruptcy, and nihilist art accompanied by the rise of escapist mystic cults of every kind — astrology, "alternative medicine," Orientalists, extrasensory perception, etc.
In an introduction to Peikoff's book, Ayn Rand describes The Ominous Parallels as, "the first book by an Objectivist philosopher other than myself" and goes on to say that, "If you do not wish to be a victim of today's philosophical bankruptcy, I recommend The Ominous Parallels as protection and ammunition. It will protect you from supporting, unwittingly, the ideas that are destroying you and the world."
In brilliantly reasoned prose, Peikoff argues that the deepest roots of German Nazism lie not in existential crises, but in ideas — not in Germany's military defeat in World War I or the economic disasters of the Weimar Republic that followed, but in the philosophy that dominated pre-Nazi Germany. Although it was mediated by crises, Peikoff demonstrates that German Nazism was the inevitable climax of a centuries-long philosophic development, preaching three fundamental ideas: the worship of unreason, the demand for self-sacrifice and the elevation of society or the state above the individual.
"These ideas," Peikoff says, "are the essence of Nazism and they are exactly what our leading universities are now spreading throughout this country. This is the basic cause of all the other parallels."
---
JAN. 7, 2017 – FIRST HOUR
George covers current news, The Oslo Peace Forum, Trump twitting, Congress certifies Election etc.
View the complete speeches by Henry Kissinger and Dr. Brzezinski below:
JAN. 7, 2017 – SECOND HOUR
George welcomes Tony Gosling a premiere journalist out of Bristol England – we will discuss a plethora of different issues from 911, politics, the Middle East to UK realities. – Tony's Blderberg Page
Radio Page – Tony tweets at @TonyGosling
I was born in Gravesend, Kent in 1962 and brought up in Bromley, South London. I ended my formal education at Ilkley College in West Yorkshire with a Humanities degree, specialising in English Literature, from Bradford University. After working for a few years in the family aviation business I decided to have a go at radio journalism.
Volunteering at the GLC funded Radio Thamesmead (now Time FM 106.8) in South East London I eventually became their full-time volunteer editor of community programmes. RTM applied for, and got, an FM licence from the Radio Authority but as part of the financial deal manager Bob Smith took many of the best presenters off the air. I therefore left in 1991 for a researchers job at Greater London Radio, the BBC's station for London.
In 1992 I moved to BBC Radio Solent as a reporter and then on to BBC Wiltshire Sound, where I worked as Salisbury reporter, relief presenter and documentary maker. When Wiltshire Sound had a 'cash crisis' the BBC decided they no longer required my services. I moved to the Lake District where I took a year out then moved to Oxford where I got involved with environmental campaigning, volunteering at The Land Is Ours helping to organise land occupations in the mid to late 1990's.
After moving to Bristol and getting into investigative journalism I helped establish i-Contact video network and Ecovillage network UK. I spent a year on the National Executive of the NUJ and eight years as Secretary, then Vice-Chair of the Bristol branch of the National Union of Journalists until the 2009 AGM when I resigned from the Bristol executive.
I joined the Religious Society of Friends, or Quakers, in June 2005 and I delivered my first lecture on the Seventeenth Century Illuminati in October 2006.
Since Easter 2009 I have produced and presented Friday Drivetime, the weekly politics show on Bristol Community FM which gives a provincial perspective on the news 'in Bristol Britain and around the world'.
You can contact me here and get good quality photos of me here
---